Our hearts and thoughts go out to those directly affected by this unprecedented event and we appreciate those on the front line working to contain the coronavirus. We continue to monitor the situation, to work closely with our allies on the ground, and to call on local and state officials to address public health concerns around COVID-19. Our work continues to focus specifically on how COVID-19 impacts the detained population—one of the most vulnerable to the pandemic.
All of our offices are closed in response to guidance from the CDC and local authorities; we are continuing our work remotely. Please note that under the circumstances, our receipt of and response to legal mail will likely be delayed.
OUR EFFORTS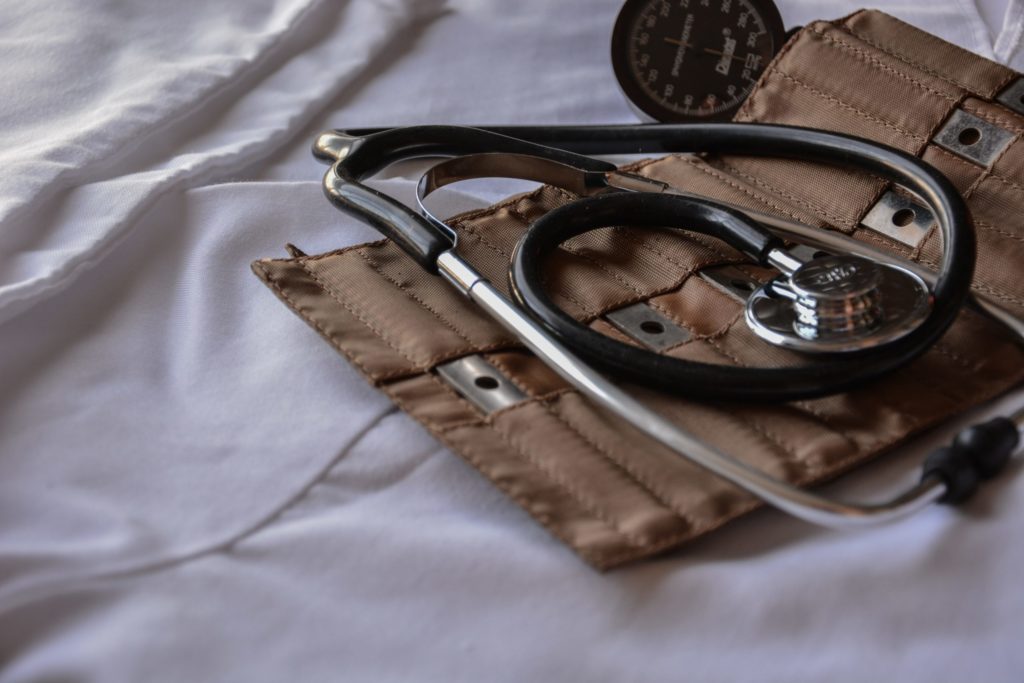 A primary focus of the MacArthur Justice Center during this time will be ensuring the health and safety of those detained in jails and prisons.
ILLINOIS
The Illinois office has signed onto the Chicago Community Bond Fund's open letter to Cook County regarding COVID-19 and Cook County Jail. According to the Illinois office, roughly 1,500 of Cook County Jail's inmates awaiting trial are being held only because they can't afford a money bond—and they remain one of the most vulnerable to COVID19. This is both a constitutional violation and a public health disaster. The Illinois office calls for their immediate release.
On 3/20/20, the Illinois office submitted an amicus brief in support of Cook County Public Defender Amy Campanelli's emergency petition to have detainees (including those with medical conditions, pregnant women, non-violent offenders, and those who are eligible for probation) immediately released from jail because of the risk of the coronavirus infection.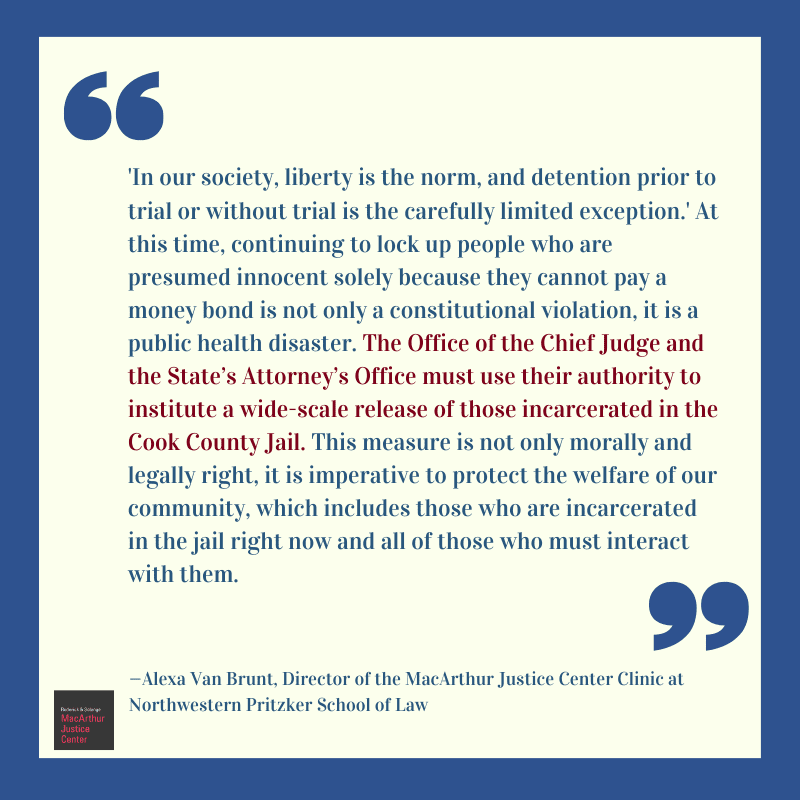 On 3/23/20, Cook County Public Defender Amy Campanelli appeared in court to argue for the release of those detained populations most vulnerable to COVID-19. After hearing arguments, Cook County Criminal Court Chief Judge LeRoy Martin, entered an order requiring criminal legal stakeholders to move forward with expedited bond review and increased frequency of bond hearings in order to reduce the jail population.
Elderly prisoners and those with underlying health conditions are being punished by confinement, not given likely death sentences. We call for the immediate release of the detained population—one of the most vulnerable to the coronavirus.
We joined a coalition of the area's leading civil rights attorneys and community advocates and filed three cases seeking release of prisoners: a federal class action suit against the Governor and Illinois Department of Corrections; a federal habeas corpus action; and a direct action to the Illinois Supreme Court. All three cases demand the swift release of those prisoners most vulnerable to the epidemic before they fall victim to it.  Copies of the Federal complaint and its attachments can be found here and here. The Petitions filed in the Illinois Supreme Court can be found here and here.
On 4/3/20, alongside the Chicago Community Bond Fund, Loevy & Loevy, and Civil Rights Corps, we filed an emergency class action lawsuit against Cook County Sheriff Thomas Dart, asking for the immediate release of medically vulnerable people in Cook County Jail in the midst of the COVID-19 crisis.
On 4/9/20, Judge Kennelly ordered Sheriff Thomas Dart to implement additional social distancing and sanitary measures as part of his constitutional obligation to protect pretrial detainees in his custody.
On 4/27/20, Judge Kennelly ordered Sheriff Thomas Dart to implement social distancing measures for people incarcerated in Cook County Jail. With few exceptions, the order dictates that people incarcerated in the jail can no longer be housed in the same cell with another person and that most dormitory housing must be stopped.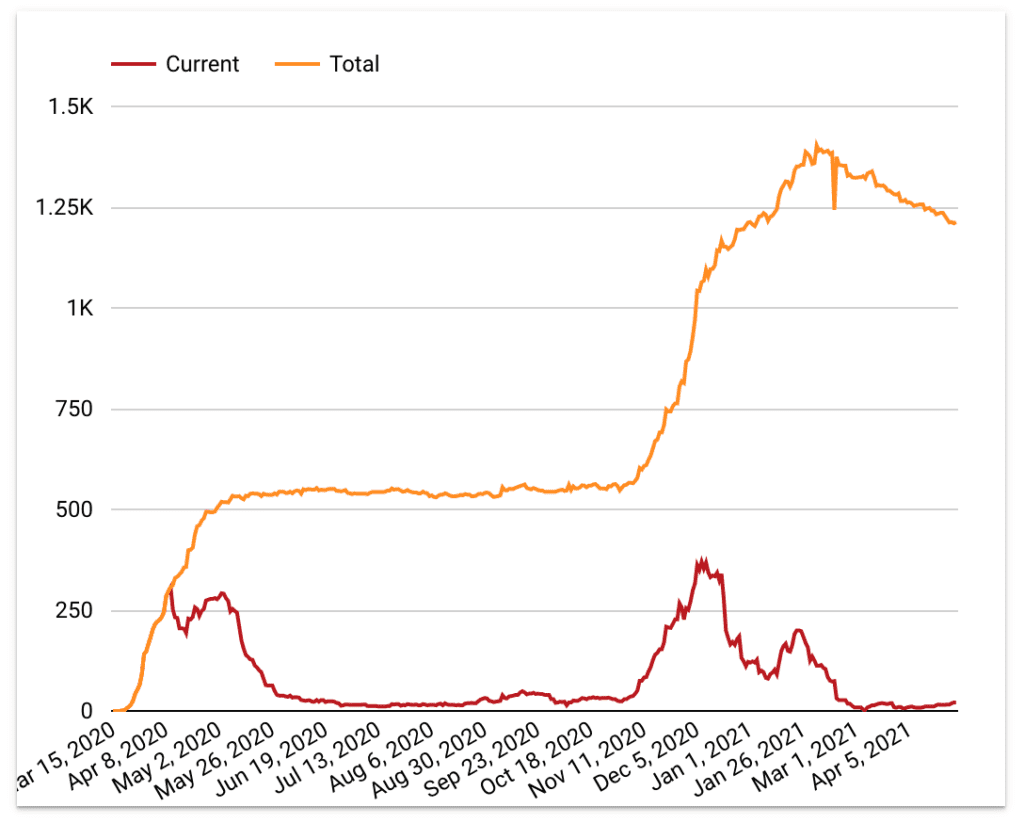 On 5/11/20, Sheriff Thomas Dart filed a notice of appeal, asking the Seventh Circuit Court to release his office from a preliminary injunction ordered in Mays v. Dart.
On 5/20/20, alongside a coalition of civil rights organizations, we filed an amended suit in a class action case against Governor Pritzker demanding that state officials speed the release of prisoners who are highly vulnerable to COVID-19.
On 6/23/20, alongside the Cook County Public Defender Amy Campanelli and a broad coalition of community groups, activists, and attorneys, we filed a lawsuit against the City of Chicago for denying people in police custody access to counsel and phones. The lawsuit states that the City's history of unlawful refusals became more widespread following the COVID-19 pandemic and the recent citywide protests over police brutality and racism.
On 9/8/20, the Seventh Circuit issued an opinion in Mays v. Dart.
On 1/15/21, Sheriff Dart filed a petition for a writ of certiorari in the United States Supreme Court in this case. The petition is pending.
On 2/3/21, Cook County Jail began vaccinating its detainees.
On 3/23/21, a lawsuit against the Illinois Department of Corrections, Richard v. Jeffreys, which calls for the release of prisoners who are medically vulnerable to COVID-19, reached a settlement. Alongside lawyers from Equip for Equality, Illinois Prison Project, Loevy & Loevy, Civil Rights and Community Justice Clinic at Northwestern Pritzker School of Law, Chicago-Kent College of Law, and Uptown People's Law Center, we filed this suit in April 2020. After months of litigation and negotiation, the IDOC will make increased use of available release options for those behind bars—focusing on protecting medically vulnerable and elderly individuals from the coronavirus. 1,000 people will also be released immediately via the settlement.
We continue to monitor the progress of the county stakeholders and their commitment to reduce the jail population. For a comprehensive breakdown, click HERE.
LOUISIANA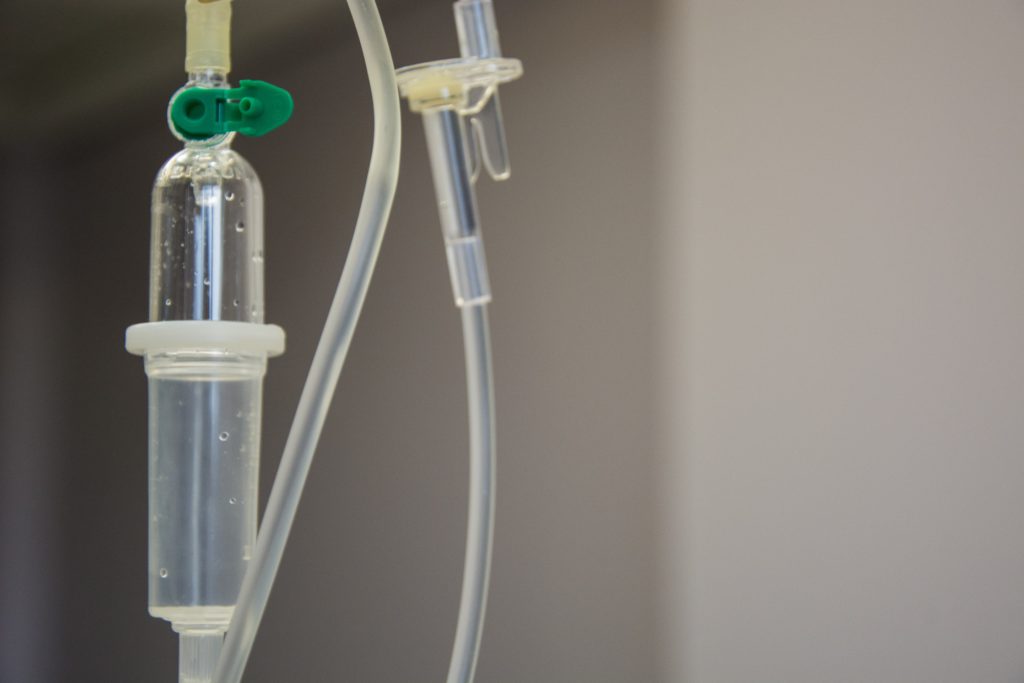 The Louisiana office has signed onto a letter to Louisiana officials regarding COVID 19 prevention and protection in Louisiana facilities. The Louisiana office has also condemned the Orleans Parish District Attorney's Office for opposing bond reductions for persons awaiting trial on misdemeanor and non-violent charges. Assistant District Attorneys in the office of Leon Cannizzaro, Jr., have filed objections to bond reduction motions filed on behalf of such persons in numerous misdemeanor and non-violent felony cases. The result, according to the Louisiana office, is an increase of the risk of COVID-19 transmission in the community at large.
On 3/26/20, the Louisiana office submitted an amicus curiae brief in support of an emergency habeas corpus petition filed by the Orleans Public Defenders. The brief argues that release of persons held on non-violent felony charges is essential to avoid undermining the City's efforts to mitigate the rapid spread of COVID-19 in the community at large.
On 4/6/20, alongside the Orleans Parish Prison Reform Coalition, the Office of the Independent Police Monitor, and Court Watch NOLA, the Louisiana office called on Mayor LaToya Cantrell and New Orleans Police Department (NOPD) Superintendent Shaun Ferguson to end arrests for misdemeanor and nonviolent offenses in response to the spread of the coronavirus COVID-19 in the city.
On 4/8/20, after the NOPD refused to change arrest policy during the pandemic, we responded.
On 5/1/20, the New Orleans Police Department ended its use of harassing "informational vehicle checkpoints" that were used to provide information regarding the stay-at-home order in Orleans Parish and to check that vehicle occupants were wearing seatbelts and that drivers had a registration and proof of insurance.
On 12/17/20, the City Council unanimously voted to pass Ordinance 33020, which now requires NOPD officers to issue a summons instead of arrests for people suspected of low-level offenses and misdemeanor violations.

MISSISSIPPI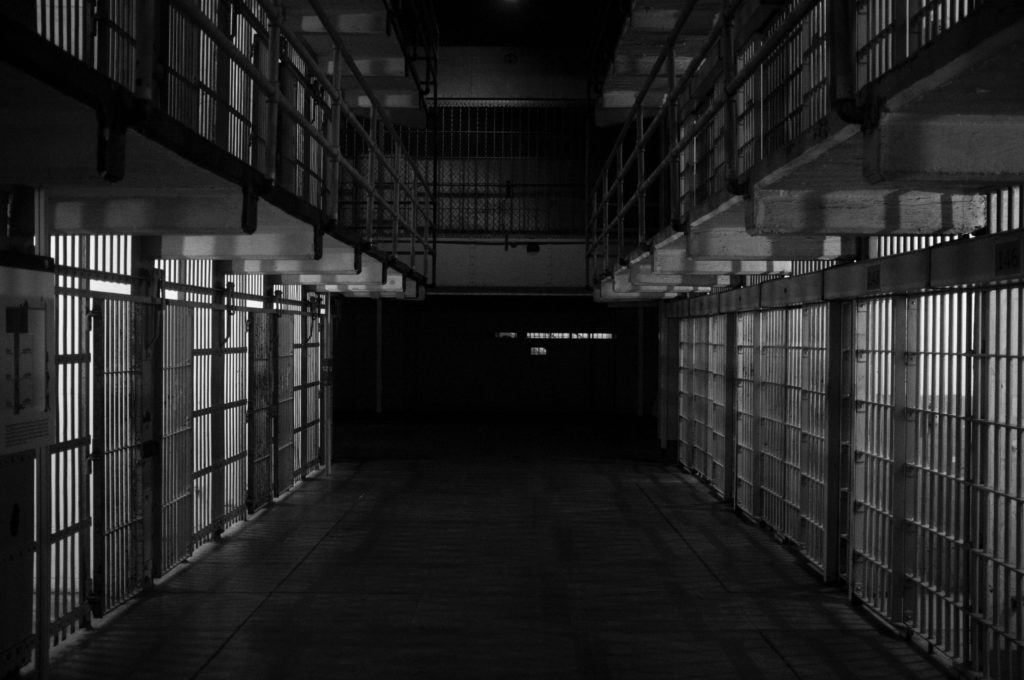 The Mississippi office issued a letter to government officials warning about the dangers of a coronavirus outbreak in Mississippi's prisons and jails. According to the Mississippi office, one of the biggest public health concerns is that such an outbreak could result in Mississippi's limited number of ICU beds and respirators being overrun with dozens of patients from a single prison or jail.  
The new report identifies roughly 2,500 detainees who have been in jail longer than 90 days.  More than 575 people have been stuck in county jails over a year.  The MacArthur Justice Center estimates that Mississippi counties spend at least $85 million each year on pretrial incarceration.  The report is available at www.MSjaildata.com.
The Mississippi office filed a class action lawsuit in the Southern District of Mississippi challenging the inadequate infection prevention efforts in two Mississippi prisons that together house more than 6,000 people.  Following extensive informal discovery and lengthy negotiations with the Mississippi Attorney General and Mississippi Department of Corrections officials, the parties entered into a Memorandum of Understanding requiring the State to implement numerous additional prevention measures and comply strictly with CDC guidance.  As part of the monitoring and enforcement of the MOU, Cliff Johnson recently joined our expert witness in conducting thorough inspections of both prisons.
The Mississippi office also has filed two federal court cases challenging the conditions at the ICE detention facility in Natchez, Mississippi.  While relief was denied in the initial action, release of all named plaintiffs was won through a variety of legal vehicles.  The second case arises from ICE's ongoing refusal to adopt adequate prevention control policies and recent disturbing fluctuations in the number of reported positive cases in the Natchez facility.  ICE has conducted significant additional testing but refuses to release test results.  The court has not yet heard arguments on our initial TRO motion requesting test results, universal testing, and a site inspection.
Recognizing the danger of "jail churn" resulting from people being moved in and out of local jails following arrest for minor offenses, the Mississippi office has been involved in direct advocacy with Mississippi sheriffs regarding arrest practices during the pandemic.  In order to track changes in behavior, the office has obtained jail census data from dozens of Mississippi counties and produces a weekly jail population summary that is shared with collaborative partners and counsel for the Mississippi Sheriffs Association.
MISSOURI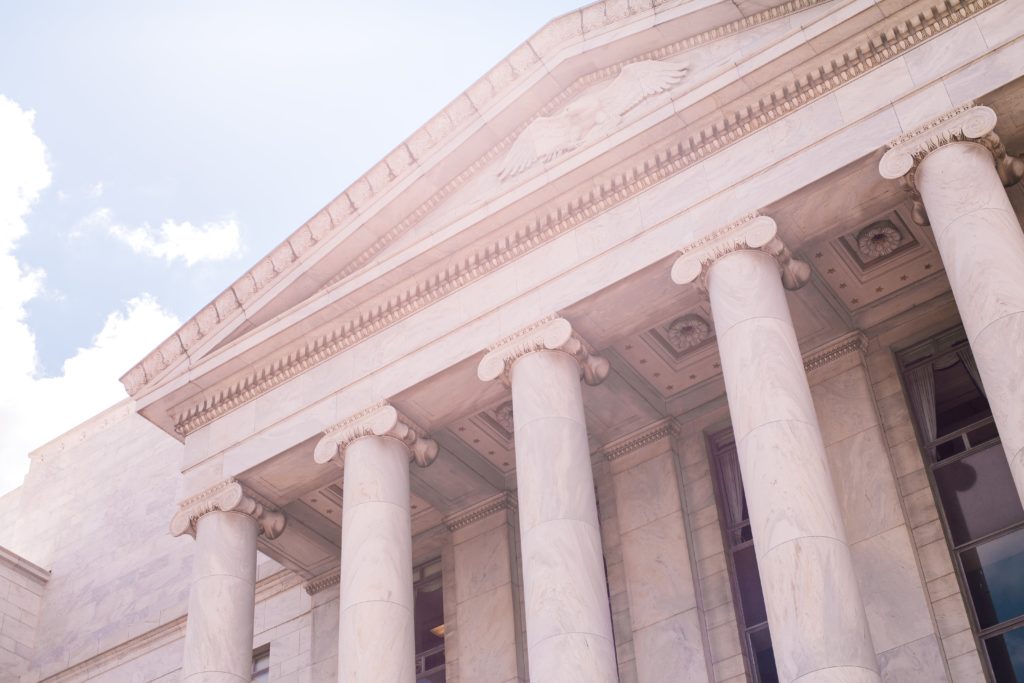 The Missouri office has co-written a letter to local and state officials on COVID19 concerns and policy recommendations with Arch City Defenders, ACLU Missouri, Action St. Louis, and the Migrant and Immigration Community Action Project. The letter calls on local and state officials to address the public health concerns and how they specifically impact marginalized and vulnerable populations.
In light of the spread of COVID-19 and the well-documented risks for detained populations, the Missouri office is asking a federal court to curtail statewide parole revocation proceedings and release certain categories of people incarcerated solely for parole violations.
On 11/12/20, a federal court ordered the Missouri Department of Corrections to overhaul the state's broken parole revocation process—ensuring counsel is appointed, parolees are informed and empowered, and hearings are prompt.
On 2/10/21, alongside the Office of the Missouri State Public Defender, ACLU of Missouri, ArchCity Defenders, and Elad Gross, we sent a letter asking the City to let a legal team into the St. Louis City Justice Center in Missouri to inspect conditions and ensure detainees' safety. Since last December, detainees have repeatedly protested inhumane conditions there. The City strongly rejected the request, and the coalition is pursuing petitioning the City court to create a Board of Visitors to inspect the jail on a regular basis.