Alongside the American Civil Liberties Union, ACLU of Missouri, and Orrick, Herrington & Sutcliffe, the MacArthur Justice Center filed a class action lawsuit to end the state of Missouri's unconstitutional use of public defender "waiting lists" which deprive thousands every year of the court-appointed counsel required by the constitution.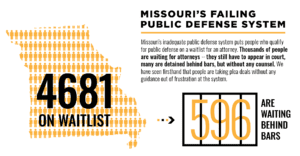 Over 4,600 individuals, roughly 600 of whom are currently in pretrial detention, are waiting for an attorney in the State of Missouri.
These individuals have been charged with crimes and qualify for a court-appointed attorney but are being forced to wait for an indeterminate amount of time for one to become available due to an overburdened indigent defense system. As a result, a criminal defendant may wait weeks, months or even years before they are assigned an attorney.
In February 2021, a Missouri judge found that holding those charged with crimes on waiting lists to be represented by an attorney indeed violates both state and federal Constitutions.